And you can subscribe on iTunes. Here are the details from Ethical Traveler founder, ace travel writer and storyteller extraordinaire Jeff Greenwald:
Dear Friends, Colleagues, and Fellow Travelers,
Most of you are familiar with my writing, photography, and/or performance. I'm writing because I recently started a new project, and it's finally in full swing. I'd love your input, and your support. Read more... (337 words, 1 image, estimated 1:21 mins reading time)
| | | |
| --- | --- | --- |
| August 10, 2017 | to | August 13, 2017 |
It's that time of year again: Get ready for Book Passage's annual Travel Writers and Photographers Conference, from August 10-13 in Corte Madera, CA.
Legendary travel writer Tim Cahill, acclaimed author Karen Joy Fowler, and guidebook maven Pauline Frommer are just a few of the incredible names Book Passage has assembled for faculty this year. Here's the full list.
The conference offers an array of workshops, panels, and evening activities and has an extraordinary reputation among publishers, editors, and writers. Alumni have published books, articles, and photos—many as the direct result of lessons learned and contacts made at the conference. Read more... (194 words, 1 image, estimated 47 secs reading time)
| | | |
| --- | --- | --- |
| October 13, 2018 | to | October 23, 2018 |
Jeff Greenwald reports that the Ethical Traveler trip to Cuba October 13-23 still has two spaces left. But act fast if you want to go; the trip will be closing on August 15th. Here are more details from Jeff:
As you have no doubt heard, Donald Trump has placed new restrictions on travel to Cuba. He's very concerned with human rights, as you know (unless the perpetrator is Russia, or Saudi Arabia). Read more... (331 words, 1 image, estimated 1:19 mins reading time)
August 19, 2017
7:00 pm
to
8:30 pm
I'm thrilled to announce the impending launch of my new collection of travel stories, Your Crocodile has Arrived.
I learned a lot when I launched my first collection of travel stories, Lost, Kidnapped, Eaten Alive! in 2014. I kept notes about best practices so I wouldn't forget all that important info, and they've come in handy now that I'm launching my second book, Your Crocodile has Arrived. There's a lot to plan, prepare, and organize!
If you'd like access to suggested activities and timing for a book launch, head over to BookLaunch.US, where I've consolidated and organized the information. I hope it's as helpful to you as it has been to me.
Roy Stevenson at Pitch Travel Write offers a 6-day workshop, The Complete Travel Writing & Marketing Master Class, after which "You will walk away from this program knowing exactly how to get sensational paid trips around the world and sky-rocket your travel writing success—even if you're starting at $0."
What: A comprehensive destination marketing & sales workshop for travel writers of all levels.
Where: Shinta Mani Resort, Siem Reap, Cambodia
When: October 22-28, 2017
More info: on the website.
Good news for anyone who's dreamed of visiting Nepal! My friend Jeff Greenwald (who wrote Shopping for Buddhas, The Size of the World and other books) and Laurie Wagner (author and inspiring Bay Area writing teacher) are leading a "Himalayan Writers' Workshop" in Kathmandu in March. It'll be 10 days of amazing sights, mind-bending encounters and flash writing. It's filling up quickly. If you think you might be interested, check it out here (or just check out all the nice photos on the site). And sign up soon—March is just around the corner!
| | | |
| --- | --- | --- |
| May 7, 2017 | to | May 12, 2017 |
Connie Hale, director of the Mokule'ia Writers Retreat, has announced the dates for 2017: This year's retreat will take place May 7–12.
There will be three morning workshops:
Life into Literature (covering all genres)
Nonfiction and memoir (including reportage and essays)
A manuscript workshop for those who are working on long essays or book-length projects and have a manuscript ready to workshop.
Intensive poetry and fiction workshops are scheduled in the afternoons. Details about cost and lodging can be found on the website.
February 2, 2017
6:00 pm
to
9:00 pm
From Kimberly Lovato and the Weekday Wanderlust gang:
Happy New Year! Due to travel schedules we are unable to host our first Weekday Wanderlust of 2017 this month, but we're bringing it to you on Thursday, February 2—just in time to wave at January in the rear view mirror!
We can't think of a better time to introduce you to our fantastic line up of fabulous readers: Janis Cooke Newman, Jess Silber, and Blane Bachelor. Check out their bios are below and on our Facebook page. We hope you'll come out and bring them that famous warm WW welcome. Invite a friend and RSVP here while you're at it. Read more... (536 words, 1 image, estimated 2:09 mins reading time)
Italy, in Other Words, Memoir Writing Retreat returns to its sumptuous location, Villa Monastero, in the tiny town of Varenna at Lake Como for its 2016 session from September 18th to 24th.
Workshop leader Kathryn Abajian says, "Picture yourself writing amid botanical gardens, lakeside with a cappuccino, or in your room with a view of peaceful Lake Como. Plan to enjoy thoughtful instruction, honest and supportive discussion and insightful excursions." Read more... (151 words, 1 image, estimated 36 secs reading time)
Jeff Greenwald is co-conducting the first Himalayan Writers Workshop with his friend and mentor, Laurie Wagner. "If you're feeling bold, and want to shake up your life," Jeff says, "here's your ticket." The workshop is from April 4th-14th, and as of today there are two spots left.
Registration has opened for the fourth annual gathering of writers and editors at Camp Mokuleia, a stunning but rustic beachfront retreat center on O'ahu's North Shore. 2016 dates are May 1 to 6.
This intimate writers' gathering is led by Constance Hale, a native of Mokule'ia. Daily workshops in fiction and nonfiction taught by nationally recognized authors. Additional sessions in poetry, children's book writing, and developing your voice. A New York agent is available for coaching. Read more... (126 words, 1 image, estimated 30 secs reading time)
For
2016, the Gold Rush Writer's Conference conference is April 29, 30, & May 1. Sign up by March 30 for the discounted rate of $165; after that it goes up to $185. Price includes a picnic supper, dinner and brunch, plus four workshops. On Sunday afternoon Erika Mailman talks about The Tourist, the Expat and the Native: A Traveler's Guide to Writing Historical Fiction.
The conference is held at Hotel Leger in Mokelumne Hill, CA.
The deadline is April 1, 2016. Here's SATW's announcement for the 2015-16 SATW Foundation Lowell Thomas Travel Journalism Competition:
The contest invites work in all types of media, including online and broadcast, not just print. All entries must be made through the BetterBNC Media Awards Platform. Electronic entries are required in most categories.
What's new for 2016:
We have added a new category, Culinary-Related Travel, which recognizes coverage of travel that is focused on food, beverages, restaurants and other eating experiences that help define a destination. This is for individual work. Read more... (160 words, 1 image, estimated 38 secs reading time)
Connie Burke and Barbara Euser are attempting to protect the underwater archeological site of Pavlopetri and the ecosystem of Vatika Bay in Greece. In an effort to bring the situation to the attention of readers, they've decided to publish an anthology of essays with the working title Saving Vatika Bay. The call for submissions is below.
Writers' Workshops International
Call for submissions: Read more... (459 words, estimated 1:50 mins reading time)
| | | |
| --- | --- | --- |
| August 30, 2015 12:00 am | to | September 5, 2015 12:00 am |
I recently interviewed author, longtime New York Times contributor, travel writer and writing teacher Perry Garfinkel for the Lowell Thomas Award-winning podcast, Journeys of Discovery with Tom Wilmer.
Listen to Perry and me here as we discuss travel writing, percussion, Buddhism, stealing, Woody Allen, and using what Perry calls the "Travel Writer's Mindset" to extend your vacation and make it more enjoyable. I also got a sneak peek at the curriculum for Perry's upcoming travel writing class, which will be on Martha's Vineyard from August 30 – September 5.
The Solas Awards are an annual competition to find the best writing being done about the world today. Travelers' Tales editors choose winners in 21 categories ranging from adventure to humor, from destination to memoir, and everything in between. The grand prize category has cash awards of $1,000, $750, and $500; all other category winners receive an awards certificate. Plus, winners may be published in Travelers' Tales books. Check out BestTravelWriting.com for previous winners, submission guidelines, details of the awards and more.
September 24, 2014
7:00 pm
to
9:00 pm
The first of three Titans of Travel events, Sex, Mishaps, and Adventure debuts on September 24th at the Mill Valley Library. Free; advance registration is recommended.
October 8, 2014
7:00 pm
to
9:00 pm
Ever get the feeling you should have stayed home? You'll be in good company at the October 8 Titans of Travel event at the Mill Valley Public Library. Free; advance registration is recommended.
Tickets are on sale for LitQuake 2014. This year's schedule celebrates the 15th anniversary with more than 900 writers, featuring such literary talents as Nicholson Baker, Po Bronson (What Should I Do With My Life), Cara Black (Murder in the Marias), Novella Carpenter (Farm City), Katie Crouch (Girls in Trucks),Emma Donoghue (Room), Andrew Sean Greer (The Impossible Lives of Gretta Wells), Daniel Handler (Why We Broke Up), Adam Johnson (The Orphan Master's Son), Edan Lepucki (California), Yiyun Li (Kinder Than Solitude), Marc Maron (Attempting Normal), Rosie Schaap (Drinking with Men), Rebecca Solnit (Men Explain Things to Me), Ellen Sussman (A Wedding in Provence), and more! Read more... (172 words, 1 image, estimated 41 secs reading time)
October 21, 2014
7:00 pm
to
9:00 pm
The next Weekday Wanderlust will be on October 21. Readings start promptly at 7 p.m., but a group of thirsty travelers can always be found in the Hotel Rex's Library Bar at 6 p.m. Come early, snag a seat, and say hello. Emcee for the evening is, as usual, the charming and peripatetic Don George.
October 22, 2014
7:00 pm
to
9:00 pm
Aching for adventure? Don't miss the October 22nd Titans of Travel event at the Mill Valley Public Library. Free; advance registration is recommended.
September 3, 2014
6:30 pm
to
8:30 pm
Michael Shapiro be teaching a three-evening class called A Sense of Place on Wednesdays at Book Passage (September 3, 10, 17) from 6:30 to 8:30. Michael says, "We'll study the masters—Bryson, Cahill, Morris, Matthiessen, Iyer and Theroux—and discuss their techniques to improve our own writing. And there will be wine!"

Michael knows as much as anyone about creating a sense of place. In fact, he wrote the book on it! A Sense of Place: Great Travel Writers Talk About Their Craft, Lives, and Inspiration. Plus, he's a fun guy and a generous teacher. This should be an excellent class.
September 24, 2014
7:00 pm
to
9:00 pm
October 8, 2014
7:00 pm
to
9:00 pm
October 22, 2014
7:00 pm
to
9:00 pm
Titans of Travel at the Mill Valley Library
I'm (your editor, Laurie McAndish King) looking forward to being a part of the Titans of Travel reading series, playing at 375 Throckmorton, in the Mill Valley Public Library's Creekside Room. This free and fun event is on Wednesday evenings: September 24, October 8, and October 22, from 7 p.m. – 9:00 p.m.  Advance registration is recommended.
Read more... (191 words, 1 image, estimated 46 secs reading time)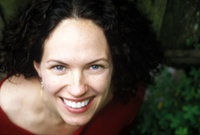 Lavinia Spalding, award winning author and editor of The Best Women's Travel Writing anthologies
This looks like a wonderful trip! November 10-15, 2014. Complete itinerary, pricing, extremely enticing photos, and other info here.

"The Inca Tale Writing Workshop in Peru: a six-day writing workshop for women, hosted by award winning travel author and anthology editor, Lavinia Spalding, at the "living Inca town" of  Ollantaytambo. You'll spend five nights at Apu Lodge (named the best Posada in South America by the Guardian.UK ), take a train ride through the jungle to explore Machu Picchu, and you'll have a Peruvian concierge/guide/translator (the owner of Peru Breathtaking Trips) for the entire expedition to pamper, entertain, educate, and offer up hidden adventures and new Read more... (229 words, 1 image, estimated 55 secs reading time)
keep looking »